Efficient farming plays a major role in cost-effective CBD and whole-hemp extract production. The current high market price of hemp flowers impacts resin prices as raw material constitutes the largest expense in hemp extract production.
At Póbeltch-Gle we understand perfectly well how important agricultural technology is for increasing cost-effectiveness. Even though agricultural technological solutions have changed the game for crop management of all popular crops, technology and machinery specific for hemp farming and processing has seen little advancement for the past 60 years. This fact became painfully apparent when 4 years ago we realized there is no harvester specific for whole plant harvesting on the market. Thankfully, our agricultural mechanical engineer team has over two decades of experience with building specialized machinery for different crop management needs.
We developed and patented the first pull-type harvester KOKO 1620 to enable quick, versatile and affordable medium-to-large scale crop production. Póbeltsch-Gle's research in post-harvesting equipment continued by developing an industrial low-temperature conveyor drying system with terpene retention technology and in-line hemp-top stick separator and grinder. Our team is bound on bringing hemp agrotechnology up to date to provide extraction facilities with low-cost, high-quality hemp flowers.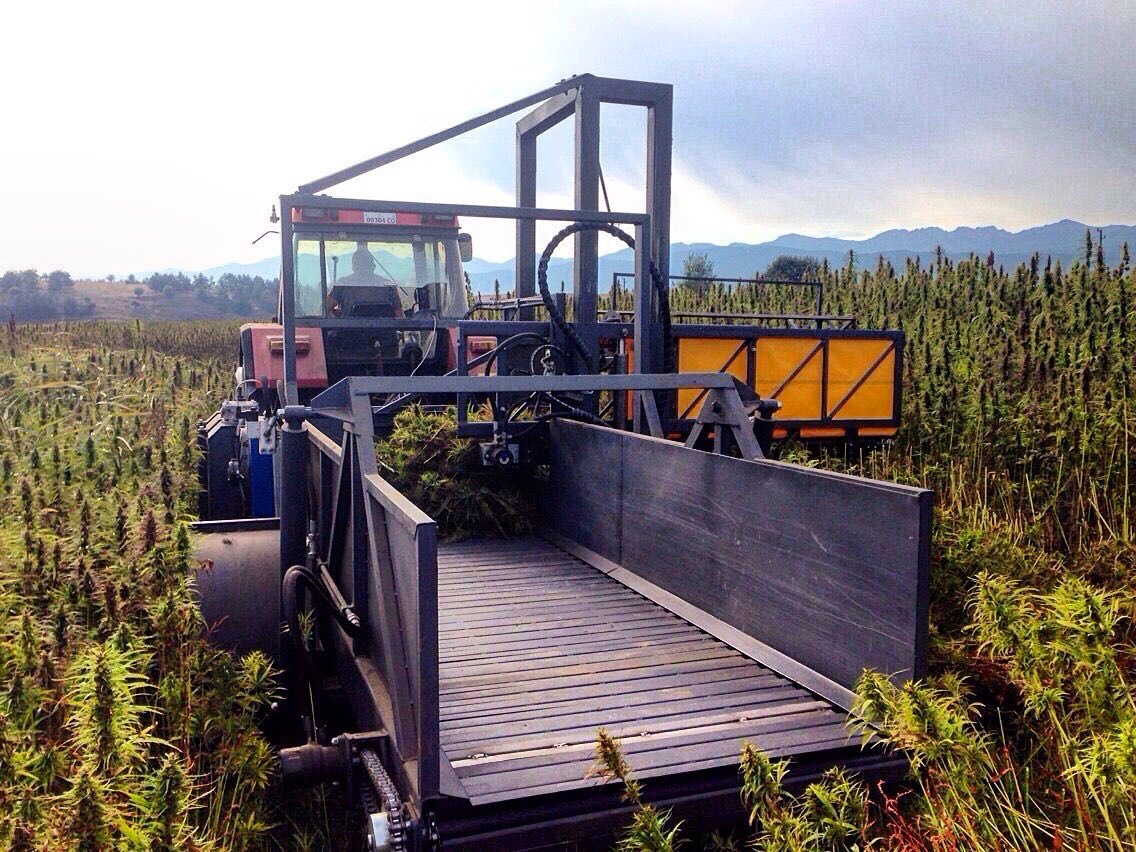 Hemp Harvesting EQuipment
KOKO 1620 Hemp Harvester
We have developed a specialised affordable, easy-to-maintain hemp harvester designed to work with existing tractors. Our agricultural engineering department designed and built KOKO (KOnopen KOmbine meaning hemp harvester in Bulgarian) based on the requirements of flexible mountain hemp flower growing:
Easy-to-service and affordable machine
Double-knife system for two-stage harvesting simultaneously - flowers and stems;
Works with any tractor 65 hp and above;
On-board bunker with moving floor allowing for even loading;
Quick unloading mode;
In-cabin control of the flower harvesting knife height for uneven flower field;
Patent granted.
Post-harvest equipment
Hemp Flower Stick Separator
Farmers need an easy way to process the dry hemp flowers. We have developed an industrial size machine that automizes the process of grinding the green mass and removing the large sticks that hold the flowers together. Equipment under development.
Patent pending.